Keeping your garage door for a long time is important. You have spent a lot for the installation of your new door. If you have chosen a wooden garage door, you have to provide it with extra care. It is quite sensitive compared with other garage door choices. If you own old wood garage doors, you might even have to spend more for its maintenance. The good thing is that there are simple techniques that you can follow in order to make it last longer.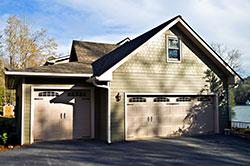 The Need for Maintenance
At least once a year, you have to check the working parts. This includes the springs, hinges, rollers and other important parts that are affected when the door is opened or closed. You have to make sure these parts are well lubricated. You can buy spray lubricant and it will already suffice. You can also use cooking oil in the absence of the garage door lubricant. Just make sure you use the right brand that does not drip on floors and could possibly attract dirt into the garage.
If there are loose screws, bolts and nuts, they have to be checked as well. If this problem is left untreated, it could possibly get worse. According to Hallandale experts, these simple problems are among the main reasons why a garage door ends up with total failure. The garage door repair expenses also increases if these problems are not given enough attention. It is also advised that you check the tracks. They must be well aligned with the rollers. If not, this can cause jolting and stuttering. It could even make the door open halfway only. You cannot close or open it completely.
Finally, if you think that the door starts to become stiff or has problems when it comes to opening after some time, the garage door springs might have caused the problem. In this case, it is high time to have them adjusted or replaced. We believe that these problems are easy to solve with the right tools and replacement parts.